The Rio Vista neighborhood, just south of Downtown Fort Lauderdale and Las Olas Blvd, sits on the south side of the New River and is bordered by Federal Highway to the east and the Intracoastal Waterway to the west.
Rio Vista is an affluent neighborhood of about 1,000 single family homes with a population of 2,395 as of 2021. It's no coincidence that Rio Vista means "River View" in Spanish.
Because the neighborhood is bordered by 2 large waterways and is partially made up of a good number of finger islands, it's popular for those in the boating and yachting community who seek deep water docking and quick ocean access with no fixed bridges. Many of the waterfront homes in Rio Vista are some of the most expensive luxury estates in Fort Lauderdale. However, there are also plenty of non waterfront homes also available in the neighborhood at significantly less price points. In Spring 2022, Rio Vista saw an average sales price of $1.5 Million with some homes in the tens of millions of dollars.
Rio Vista is a family-friendly community which has 2 cozy parks. One of them on the south end and the other on the north end .. which is located directly along the New River, featuring a direct view of the river and all of the spectacular riverfront sights you could imagine .. Including passing boats, yachts, paddleboarders, the Water Taxi, tour boats and more.
Watch the YouTube video here: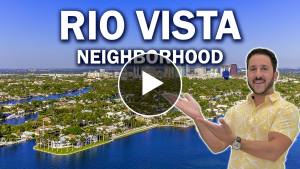 In addition to the large waterfront luxury estates, Rio Vista is also known for its tree lined streets and unique single family home architecture styles ranging from ultra modern to Key West to Mediterranean and Spanish style properties.
If you have the opportunity to hop on a boat, you'll enjoy marveling at Rio Vista's spectacular waterfront estates from the water – Much of which you wouldn't even know is there by simply driving through in your car. While on a boat, cruise just 15 minutes south for quick ocean access at the Port Everglades inlet, where the cruise terminals are.
HERE'S A FUN FACT FOR YOU:
Wayne Huizenga – The late, prominent businessman and founder of AutoNation, Waste Management (and co-owner of Blockbuster Video, the Miami Dolphins, Florida Panthers and Florida Marlins professional sports teams) – Lived right here in Rio Vista within this 18,000 square foot property sitting on 60,000 square feet of land. Yes, that's 18,000 square foot of property sitting on 60,000 square feet of land!
Because Rio Vista sits next to the Intracoastal Waterway, you're just a few minutes' boat ride to the Fort Lauderdale Sandbar – A popular gathering location where boats of all kinds anchor in shallow water to socialize, wade in the often waist and knee deep water, to enjoy watersports and spend the day taking in the awesome weather and postcard perfect scenery that Fort Lauderdale is so well known for.
I hope you've enjoyed my overview of Rio Vista neighborhood in Fort Lauderdale, Florida.  It doesn't get more centrally located than this.
Watch the YouTube video here: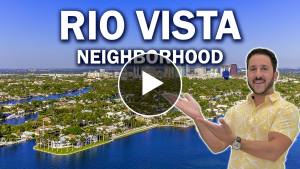 I'm Jason Taub, your local REALTOR® in Fort Lauderdale and the surrounding areas in South Florida.  Whether you're looking to Buy, Sell or Rent .. I'm available 24/7 for ALL of your real estate needs. I look forward to hearing from YOU soon!
Contact Jason Direct at:  ☎️ (954) 663-6032 | 🕓 24/7
Copyright Notice – This content has been written exclusively by Jason Taub. It may not be published, broadcast, rewritten or redistributed. © 2022 Jason Taub – All Rights Reserved.