If you've been waiting for the Fort Lauderdale or South Florida real estate market to crash, this video is for you.
I'm Jason Taub, your resident REALTOR here in Fort Lauderdale and the surrounding areas within South Florida. As a Resident REALTOR who works in the Fort Lauderdale and South Florida market, I'm extremely confident that the current market trends won't be reversing anytime soon. So if you're waiting for a crash, don't count on it. Here's why ..
1. The Pandemic Affect
South Florida has always been a hot real estate market. However, COVID has highlighted like never before, all of the advantages of living in South Florida. Just a few of them include no lockdowns, no mask mandates, tropical weather year round and plenty of outdoor entertainment and dining.
2. Historically High Demand
With lockdowns and mask mandates in much of the country, many have flocked to South Florida. While some have relocated permanently and others temporarily, this has fueled tremendous demand for South Florida homes of all kinds.
3. Extremely Low Inventory
As a result of the unprecedented demand for housing, homes are often going under contract within hours or days of them going onto the market. This is not something that's just on the news. I see this happen daily.
4. Remote Working
The surge in remote working, fueled by the pandemic, has resulted in many employees from across the country and even the world relocating to South Florida. Why? So they can enjoy our beaches, our pools, our waterways and all of the outdoor activities that South Florida has to offer. All of this can be enjoyed before work, after work and for some, even during working hours. Wait, during working hours? Yeah, some of you .. You know who you are :p
5.  Affordability
Even though our real estate prices have increased, they are still significantly lower than in other locations across the country such as in the Northeast and California. Also, the cost of living in Florida is significantly lower than in some other locations.
6. Pro Business
With no state income tax, many executives from large corporations have either relocated to Florida, are in the process of doing it or they're exploring it.
7. Lasting Effects From the Pandemic
Even if the pandemic was to end tomorrow, the advantages of living in South Florida have become clear than ever, thanks to the pandemic. There's always going to be a number of people who have thought about moving to Florida, perhaps in 2020 .. or in 2021 .. And for whatever reason, they didn't make the move. All it's going to take is another winter of cold weather, higher costs of living .. and then guess what? They're moving to Florida!
With all that being said, I don't see the Fort Lauderdale or South Florida real estate market crashing or even slowing down anytime soon. Simply put, there's just too much demand – South Florida is the place to be.
Watch the YouTube video here: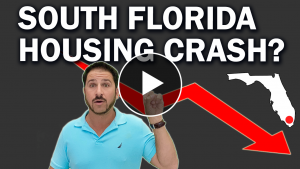 Have you been considering moving to Fort Lauderdale or the surrounding areas within South Florida? As your Resident REALTOR, I'd love to help. I'm available 24/7 and I look forward to hearing from YOU soon!
Copyright Notice – This content has been written exclusively by Jason Taub. It may not be published, broadcast, rewritten or redistributed. © 2021 Jason Taub – All Rights Reserved.