The Victoria Park neighborhood of Fort Lauderdale, Florida is located on the eastern edge of Downtown Fort Lauderdale – Specifically East of US1 (Federal Highway) and between Sunrise Blvd to the North and Broward Blvd to the South.
If you take Broward Blvd as far East as possible past US1, you'll find yourself entering the neighborhood where Broward Blvd eventually curves and turns into Victoria Park Road – A main north to south artery through the entire neighborhood. Along this stretch of road, on the right, you'll notice a park (we'll cover more on that later) and some waterfront properties that boast Intracoastal and Atlantic Ocean access. This is the easternmost edge of the Victoria Park neighborhood.
Victoria Park is a diverse mix of 1930's old Florida homes and ultra-modern luxury properties of all types – Single family homes, condos, apartments and townhouses.
The shaded, tree-lined streets combined with the diverse architecture of homes of all types, shapes and sizes offer a small town feel but with the convenience of being within minutes of Las Olas Blvd, Downtown Fort Lauderdale and Fort Lauderdale Beach. We'll get to the surrounding destinations and things to do a bit later on in this video.
In 2021, Victoria Park had a total of 5,092 housing units and a population of 7,594. As of Spring 2022, the average sales price for single family homes was $951,000 while the average sales price for condos and townhomes was $470,000.
Victoria Park is a family-friendly community which includes 2 public parks. One of them at the very southeastern corner of the neighborhood along the water. The other is Holiday Park – The largest park near Downtown Fort Lauderdale and home to a ton of sports, recreational and entertainment amenities including pickleball, outdoor roller hockey, racquetball, a dog park, fields for baseball, soccer, football, an entire tennis center boasting an impressive number of tennis courts, children's playgrounds, walking trails and more. There's also The Parker – A theatre for arts and entertainment events. Plus the practice facility for the Florida Panthers, public use ice rinks and more.
 Watch the YouTube video here: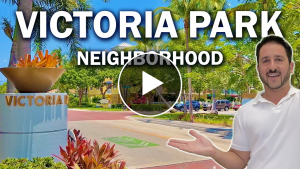 Back to the residential streets of Victoria Park, once again check out the tree lined streets which provide a nice amount of shade from the South Florida sun. Also pay attention to the diverse mix of unique architectural styles from one property to another. Each property is so unique that you won't see the same one twice in Victoria Park! That's just part of the charm of this extremely popular Fort Lauderdale neighborhood.
If you spend a lot of time in public parks or would like to be as close as possible to the largest park Downtown – And all of the amenities it offers – Victoria Park is adjacent to Holiday Park, as seen on the left, which I highlighted moments ago. It doesn't get much more convenient than this.
Because Victoria Park is bordered by Federal Highway and Sunrise Blvd, you're just minutes from tons of restaurants and stores to the North and East .. This includes 2 shopping malls – The Galleria at Fort Lauderdale and the Coral Ridge Mall. On the edge of Victoria Park, there are a variety of strip malls including restaurants, a few supermarkets, gas stations and more. Here in Victoria Park, you've got everything you need just minutes away, with so much within walking distance as well. One of the biggest draws to living in the quaint, Victoria Park neighborhood of Fort Lauderdale, is its quick proximity to all of the shops, restaurants and entertainment that Fort Lauderdale is so very well known for.
Let's continue driving through the Victoria Park neighborhood for the next 45 seconds or so. And then, at the 5:15 mark within this video, we'll cover all of the surrounding attractions and destinations that are easily accessible within just minutes of the Victoria Park neighborhood of Fort Lauderdale.
If you're interested in a home in the Victoria Park neighborhood, contact me and I'll find the perfect home sweet home in the neighborhood for YOU!
Watch the YouTube video here: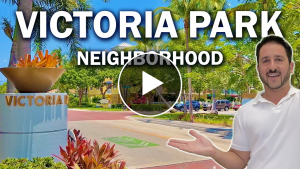 Contact Jason Direct at:  ☎️ (954) 663-6032 | 🕓 24/7
Copyright Notice – This content has been written exclusively by Jason Taub. It may not be published, broadcast, rewritten or redistributed. © 2022 Jason Taub – All Rights Reserved.