Las Olas Blvd is one of Fort Lauderdale's most popular thoroughfares – Stretching from Andrews Ave in the heart of downtown, through the business, shopping and dining districts all the way to Fort Lauderdale Beach. It's pedestrian friendly, runs east to west and is just under 2.5 miles.
To get a full appreciation for everything the Downtown Fort Lauderdale area offers, I highly recommend walking the entire stretch of Las Olas Blvd. It can be done in 1 hour & 15 minutes.
Beginning at the west end of Las Olas Blvd, you'll notice a variety of high-rise buildings consisting of apartments and condos, the NSU Art Museum and Huizenga Plaza/Bubier Park which hosts a variety of events throughout the year.
As you walk the Boulevard east towards the beach, you're soon in the heart of the business district which consists of a mixture of high-rise offices, condos and restaurants. When you get to the traffic light at SE 6th Ave, you're directly above one of the only tunnels in Florida (wait, what? We'll cover that another time!).
Back at the street level, you're now at the beginning of the shopping and dining district of Las Olas Blvd. This is where you'll find block after block of countless restaurants, art galleries, fashion boutiques, cafes, bars, hair salons and more. Live entertainment is common and the diverse dining scene, often incorporating locally sourced specialties, spans all tastes and budgets, and ranges from pet-friendly sidewalk cafes to craft pubs, breweries and luxurious five-star restaurants. Whether you're looking for a low-key breakfast, high energy brunch, casual dining venue or nightlife, there's something for everyone.
This stretch of Las Olas Blvd is opened to pedestrian traffic only for various popular events throughout the year including the Las Olas Art Fair, Exotics on Las Olas, Christmas on Las Olas and more.
As you continue east, you'll notice the businesses begin to thin out as the Boulevard transforms into a postcard-perfect view of palm trees lining the road along with magnificent views of multi-million dollar homes and luxury yachts.
Getting closer to the beach, the Boulevard meets the Intracoastal waterway and the pedestrian-friendly bridge boasts 360 degree scenic views of the surrounding neighborhoods and marinas. A quick walk over the bridge culminates with your arrival at the world famous Fort Lauderdale Beach.
Congratulations, you've made it to Fort Lauderdale Beach and can say you've walked all of Las Olas Blvd.
Gorgeous walk, isn't it?
ALSO: Watch my related YouTube Video: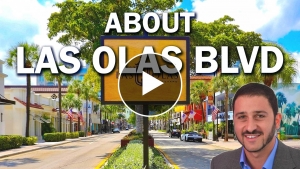 Copyright Notice – This content has been written exclusively by Jason Taub. It may not be published, broadcast, rewritten or redistributed. © 2020 Jason Taub – All Rights Reserved.
Share