Located within walking distance to Las Olas Blvd in Downtown Fort Lauderdale is the Las Olas By the River Condominium property.
Standing 7 stories tall, Las Olas By The River consists of 3 interconnected buildings and features resort style amenities such as the pool, jacuzzi, poolside barbecue grills and cabanas, fitness center, library, pool room, secure building access, clubhouse party room, business center, secure garage parking and more. The main entrance is covered and provides quick access to the management office and is also manned by the security concierge which admits guests visiting residents.
Once inside, you're greeted by a grand staircase offering quick access to the amenities. Not a fan of stairs? Take the ramp which offers alternate access to all of the same public spaces.
Let's start with the kitchen and business center, where you'll see there's plenty of space for hosting dining events as well as computers available for use. The sliding glass door offers quick access to the outdoor courtyard and pool.
As we continue next door, we arrive at the library – Home to countless books available for your enjoyment.  Next, is the game room, complete with a pool table.
The club room boasts plenty of seating and space for gatherings and is also located directly next to the outdoor courtyard and pool. Do you work from home? Enjoy working from this space or from the outdoor seating area located adjacent to the amenities you've seen so far. Oh, and .. it's within steps of all the pool deck amenities.
Before we get to the pool deck, here's the exercise room and directly next door .. the gym .. which consists of a variety of machines, free weights, plenty of mirrors, natural lighting and all of the exercise equipment you need for your workouts.
And now, let's head to the pool deck and outdoor amenities – Which serves as the central courtyard of the 3 surrounding buildings.
As you can see, the pool deck has plenty of open space and is home to a variety of outdoor seating including lounge chairs, covered cabanas, couches and tables.
The 2 BBQ grills are located on the north and south ends of the pool – One of which is directly next to the large outdoor kitchen space, perfect for hosting cookouts with friends and family. Check out all of the space available for entertaining. And with such close proximity to the pool, you've got everything right here.
But wait, there's more .. The large jacuzzi is also conveniently located within steps of the pool and both BBQ grills and plentiful outdoor seating. For those who like to enjoy amenities all within steps of each other .. it doesn't get better than this.
The positioning of the 3 buildings around the pool deck allows for plenty of vegetation, providing you with the feel of a tropical garden paradise. There's no shortage of superb gardening. Oh, and let's not forget the fountains and covered benches which offer a pretty cool retreat from the sun.
As you head from any of the buildings back towards the grand staircase entrance, you'll pass the pool deck and both outdoor and indoor community amenities.
Located just south of the New River in Downtown Fort Lauderdale, you're a quick walk to Las Olas Blvd and all of the restaurants, shops and entertainment that make this neighborhood so popular.
Live entertainment is common and the diverse dining scene, often incorporating locally sourced specialties, spans all tastes and budgets, and ranges from pet-friendly sidewalk cafes to craft pubs, breweries and luxurious five-star restaurants. Whether you're looking for a low key breakfast, high energy brunch, casual dining or nightlife, there's something for everyone.
For more info on Las Olas Blvd, check out my YouTube video focused specifically on the Boulevard.
Within two minutes of walking out of the property, you're steps away from the breathtaking views of the river, passing boat traffic and nearby buildings. If you have a boat, dockage is available directly from the city. Pull your boat up directly along the Riverwalk for pickups, dropoffs or hop onto the Water Taxi.
This is also where you can quickly get to the Riverwalk, which I mentioned earlier. The Riverwalk allows for plenty of outdoor walking, jogging, or exercise along the river – Perfect for taking in all of the awesome scenery.
Also within minutes walking distance is a floating dock which is owned by the city. It's the perfect place for launching and retrieving kayaks, canoes and other watersport toys as well as daytime docking at no cost.
If you're into boats, there's a never-ending parade of them cruising up and down the river – All day, every day.
For more on the river and Riverwalk, check out my separate YouTube video.
So, there you have it. Las Olas By The River in Downtown Fort Lauderdale. With resort style amenities and quick walking distance to the Riverwalk and Las Olas Blvd, it's a popular building for many who call it home sweet home.
Watch the complete YouTube video by clicking the thumbnail below.
ALSO: Watch the YouTube Video: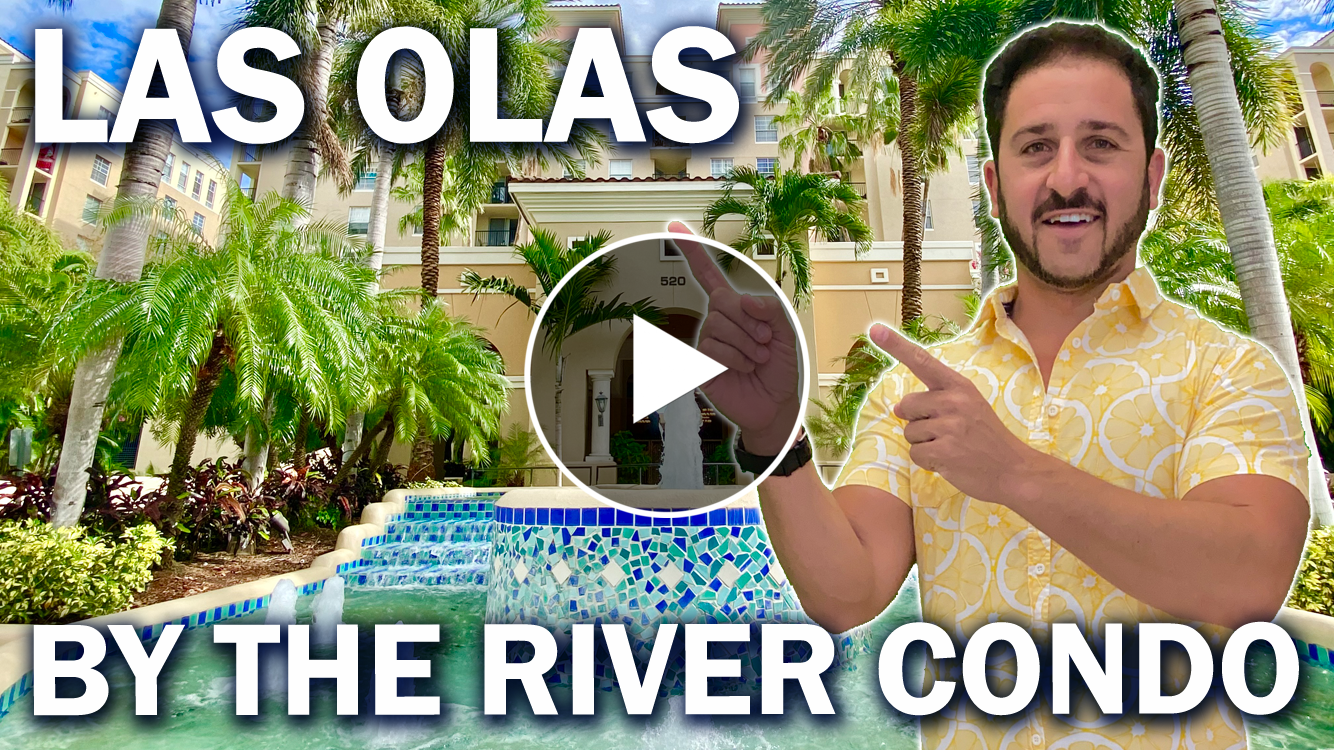 Copyright Notice – This content has been written exclusively by Jason Taub. It may not be published, broadcast, rewritten or redistributed. © 2021 Jason Taub – All Rights Reserved.
Whether you're interested in a condo at Las Olas By The River or a different property, I'm available 24/7 for all of your real estate needs in Fort Lauderdale and the surrounding areas within South Florida. I look forward to hearing from YOU soon!